Lawrence Okolie in only his 16th professional fight has added the WBO cruiserweight world title to his collection of titles; British, Commonwealth and European – as he looks to unify the cruiserweight division going forward.
Lawrence Okolie looked physically bigger than Glowacki, not so much in size but in height and reach, and the British Nigerian used this advantage to dominate and frustrate his polish opponent.
Okolie was able to keep Glowacki at bay by controlling the distance with his long jab and movement around the ring. Equally, Glowacki's southpaw stance against Okolie's orthodox put him in the firing line of Okolie's powerful straight right-hand, which appeared to make the polish fighter a little hesitant.
In the sixth round, Okolie sent Glowacki to the canvas with a sweet right hand to the head and the fight was over. Glowacki bravely got back to his feet but referee Marcus McDonell waved off the fight.
In the post-fight interview Okolie was quick to call out IBF champion Mairis Briedis as well as Eddie Hearn for the Rolex watch he promised him many years ago, 'Out of the champions, Mairis Briedis is the one I'd most like to fight' he told SkySports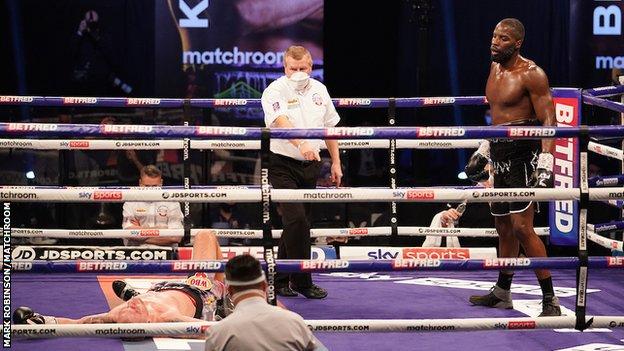 "Throughout the whole fight, all I was thinking was one thing. Four years ago, Eddie Hearn saw a boy from Hackney and said to him, 'If you win a world title, I'm gonna get you a gold Sky-Dweller.' Every single moment in that ring, that's all I was thinking."
Eddie Hearn went on to add in the post-fight interviews, 'Glowacki was top five in the world. Okolie has had criticism, but he's a novice and it was an absolute masterclass. That was good enough to beat any cruiserweight'
'We want to unify then move up to heavyweight. He has scary power but also has the knowledge' Hearn said of Okolie
The other cruiserweight champions are Mairis Briedis (IBF), Arsen Goulamirian (WBA) and Llunga Makabu (WBC)