In a recent interview, Eddie Hearn spoke about what fights Dillian Whyte could face next and Deontay Wilder as well as Andy Ruiz Jr were discussed: "Of course, Deontay Wilder is a huge name in America now after those two fights with Fury. He's also a big name in the UK" Hearn said on the AK & Barak Show, on the DAZN

"I haven't really thought about the split. I would just work with the money and say, 'Guys, this is what I think is in the fight. We can work out a deal. Who knows? We need to see Deontay Wilder back in the ring"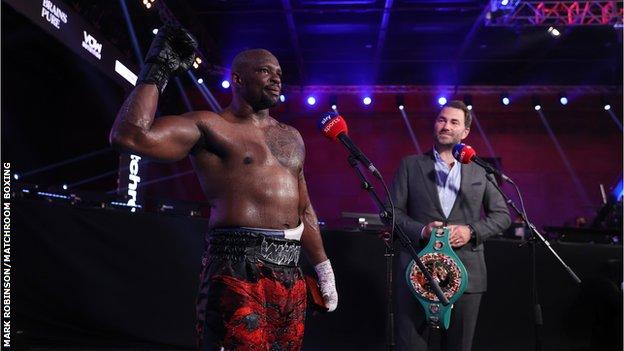 "I want to see that, and I think he's great for the sport. And I think the division would be a better place with him in it, so let's see him get active. Dillian has had such a long run of tough fights. I would like to see him come to the states in the summer and have a fight"

"Whether that's Trevor Bryan or another American heavyweight to make a mark here. I think Deontay Wilder and I think the Andy Ruiz fight is tremendous as well for Dillian Whyte. Dillian Whyte is one of those guys that you can match him against anyone and he's always exciting"
"He's never been in a dull fight, and I just feel that Wilder-Whyte is a barnburner, I really do. I think it's an absolutely thrilling fight. I'm not sure they'd make it to the ring, but it would be a lot of fun," said Hearn.
Dillian Whyte (28-2, 19 ko's) reclaimed the WBC interim title with his rematch win over Povetkin and with such a valuable position – although a mandatory world title shot may take a over a year to take place due to a potential two fight undisputed clash between Fury and Joshua – this may incite either Wilder or Ruiz Jr to fight Whyte this year.
With a packed heavyweight division, having a mandatory position for a WBC world title is a valuable status to have. Deontay Wilder (41-1-1, 40 ko's) has not fought since his defeated to Tyson Fury in February 2020 and Andy Ruiz Jr last fight was also a defeat, to Anthony Joshua in December 2019 but he is scheduled to face Chris Arreola (38-6-1, 33 ko's) on May 1st.